Writing the book
My wife Lila and I have been to all Red Wing Roots Music festivals since they began in 2013. I'm always struck by the mixture of ancient and modern at the festival. The stages are at the foot of limestone chimneys, the remnants of a primordial sea that covered this area 500 million years ago. The sound boards for the stages look like something from Dr. Who. Inflatable lights shaped like Hieronymus Bosch objects hang from the trees. As you walk around, you might hear a claw-hammer banjo, a washtub bass, a donkey jawbone played with a stick, a flat top guitar played faster than you can think, an electric guitar frying up the blues, hoarse hollers and gorgeous harmonies making their way to the stars.
I wanted to write a poem that captured some of these impressions. I used a form inspired by the alternating three-line, two-line pattern used in renku, the linked verse form from which haiku emerged. After the poem was published in MacQueen's Quinterly, I began thinking of how the poem might work as a small book. I was lucky to find a skilled and imaginative collaborator in Nicolette Ross of Ross Press and Bindery out of Brevard, North Carolina, a town famous for white squirrels.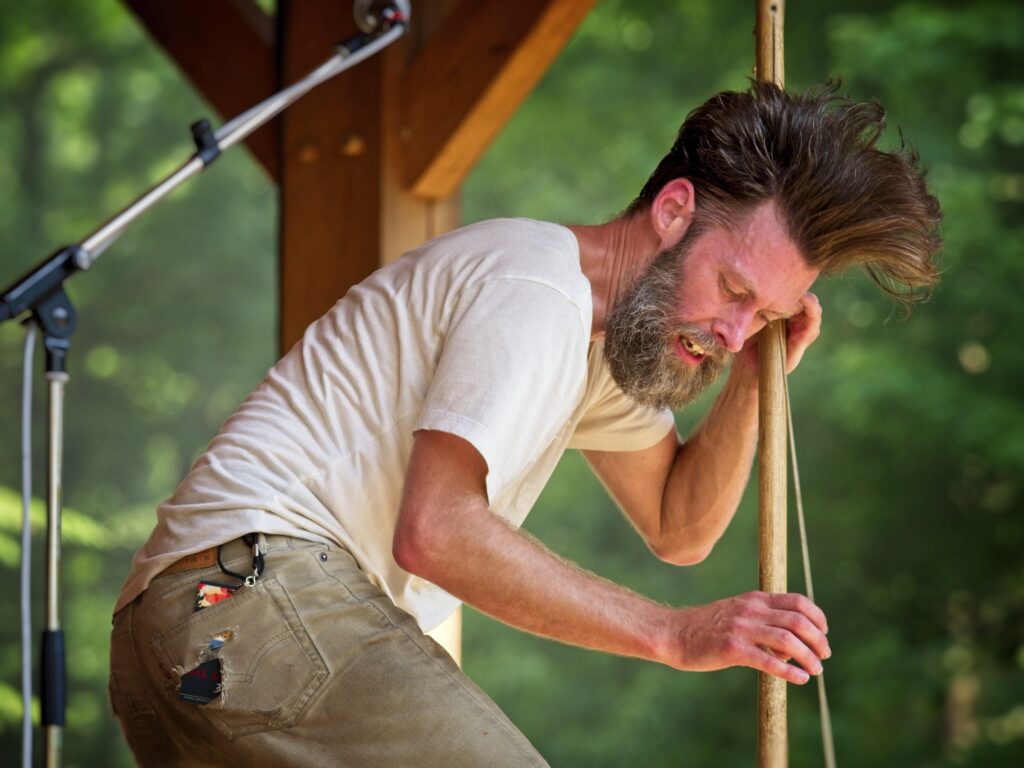 Making the book
Nicolette Ross writes:
"The illustrations for Summer Music Festival at Natural Chimneys Park were created with a combination of hand-rendered ink drawings and hand-carved linoleum prints. These illustrations, along with their corresponding words, were then digitized and printed from photo polymer letterpress printing plates on a vintage Vandercook SP-15 proofing press. Each book has been printed one color at a time, one print at a time. The final prints were trimmed on a 100 year old paper guillotine, scored, folded, assembled, glue-bound into a modified accordion, and numbered by hand."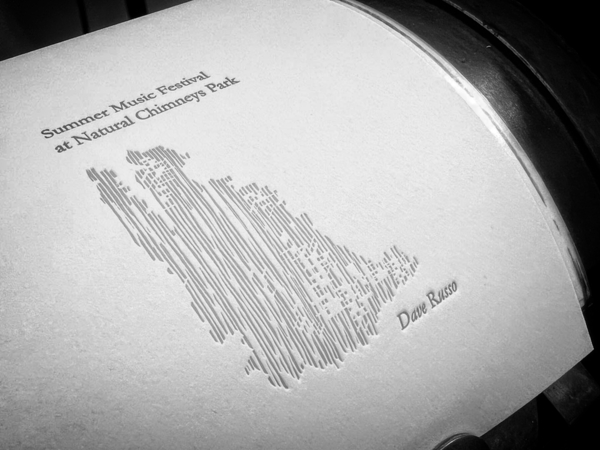 You can order this book from the Books page.